Outdoor Living with Indoor Comfort
Introducing the BellBloc Outdoor Pillow Insert, with a game-changing fill covered by the BellBloc 100 fabric liner system (see test data here), giving you a "choppable" soft pillow that will withstand moisture, mold, and mildew, and can be customized with an outdoor fabric of your choice. The BellBloc 100 liner system improves the performance of every fabric in any application by protecting the fill from the elements. And the BellBloc Pillow Inserts innovative fill gives the insert a soft comfort that compares to any indoor decorative pillow.
BellBloc Pillow Insert Facts at a Glance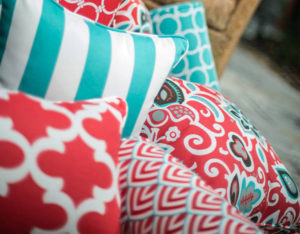 Exclusive moisture repellent insert
Heat stable fiber constructions
Mold and mildew resistant, antibacterial
Retain soft hand of outdoor jacquards
Highly breathable
Simplifies maintenance
Reduces costs
Proudly made in the USA
Developed by well-known textile engineer and designer Laurie Jenkins, BellBloc technology enhances the functionality of decorative fabrics and pillows with a moisture repellent, faster-drying insert system that offers exceptional resistance to mold and mildew, extending the life of the cushion in any application.
BellBloc is complete protection for your seating and decorative cushions, giving you an indoor decor look for your outdoor rooms.